Ignition Module/ Switching Unit
BERU® has engineered yet another high-technology, high performance replacement part with this modern-day contact set. These parts ensure a reliable spark distribution.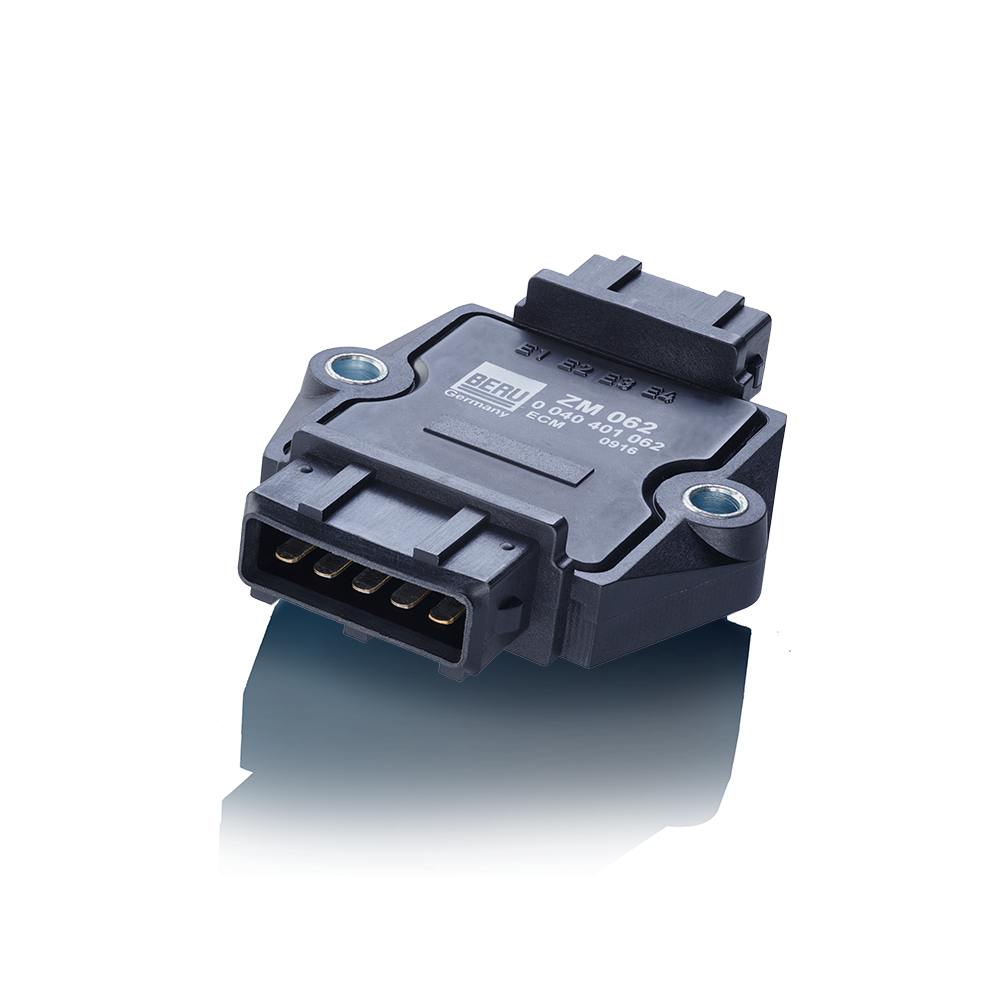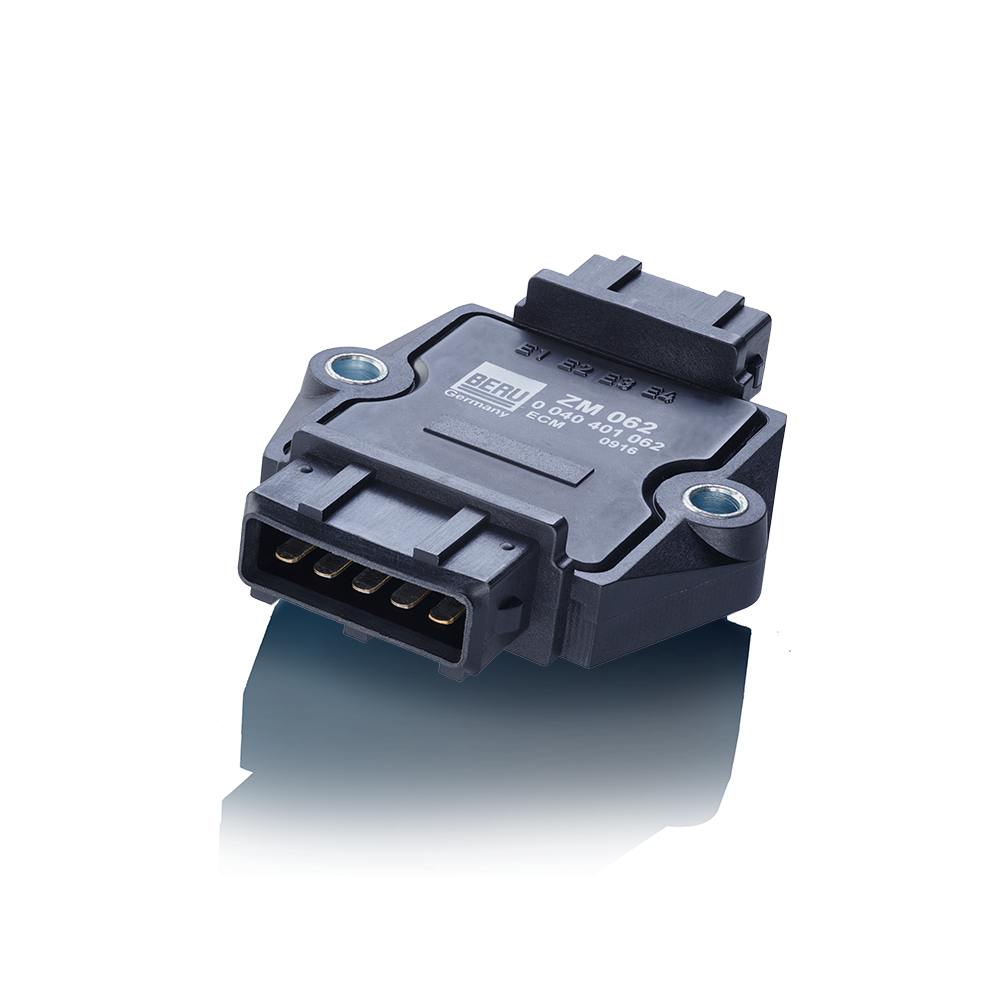 Reliable spark distribution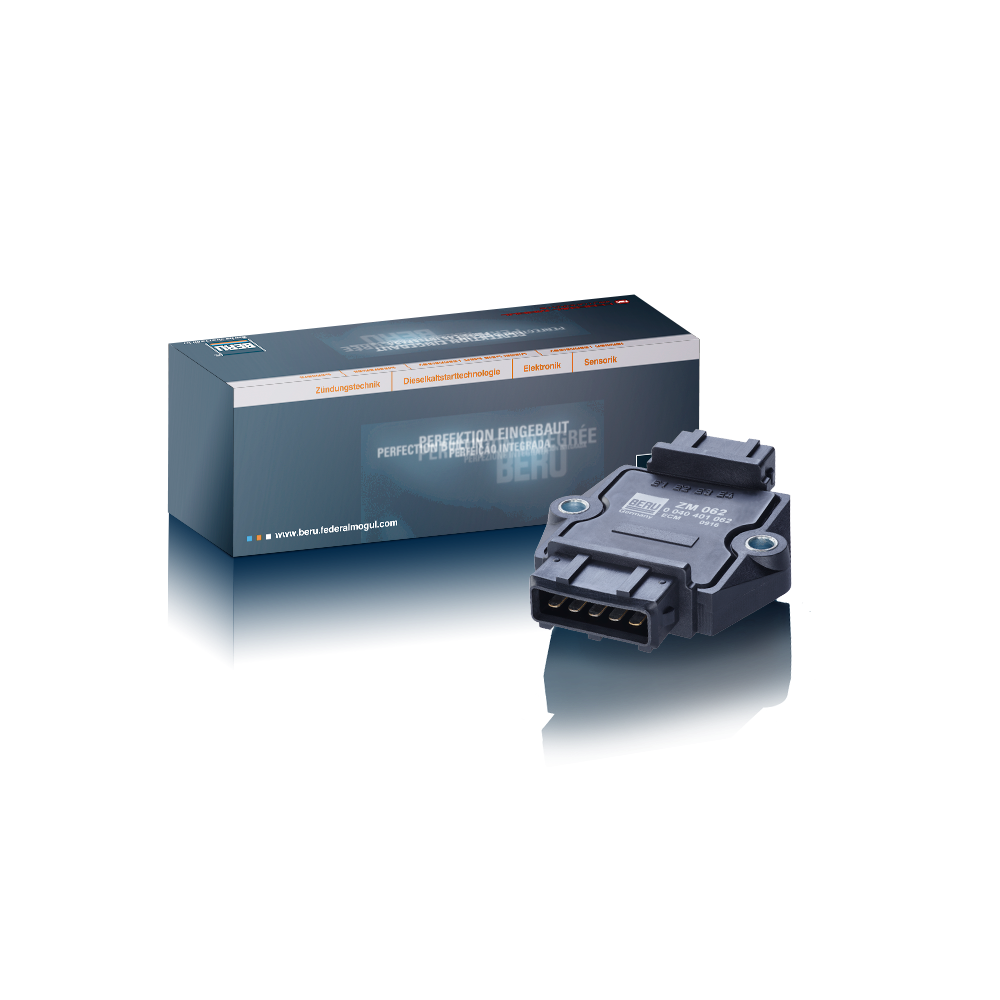 Also known as the switching unit, the ignition module is used to regulate the current and dwell angle for transistor ignition systems using a hall sensor or inductive sensor. The module provides for reliable spark distribution in modern ignition systems with rotary high voltage distribution — a task that in older, conventional coil ignition systems was performed by the contact sets. Expect a reliable spark distribution.
Technical Features

OE quality tested in BERU(R) facilities;
Protection against corrosion of the connections and housing;
High thermal resistance meaning increased functional reliability;
Variants in the range include cooling plates or thermally conductive paste.
Use our Part Finder and check which switching unit is the one engineered just for your needs.
Find parts for a previously entered vehicle
| Engine | MotNr | Fuel Type | Bore | Stroke | Cylinders | CC | kW/PS | Aspiration | Valves |
| --- | --- | --- | --- | --- | --- | --- | --- | --- | --- |
| {{ engine.make }} {{ engine.code }} | {{ engine.tecdoc_id || "-" }} | {{ engine.fuel_type || "-" }} | {{ formatPreciseValue(engine.bore) || "-" }}mm | {{ formatPreciseValue(engine.stroke) || "-" }}mm | {{ engine.cylinder_count || "-" }} | {{ maxAndMin(engine.cc_tech_range) || "-" }} | {{ maxAndMin(engine.kw_range) || "-" }} / {{ maxAndMin(engine.hp_range) || "-" }} | {{ engine.aspiration_type || "-" }} | {{ engine.valve_count || "-" }} |
Part Finder

Find parts for a previously entered vehicle

| Engine | MotNr | Fuel Type | Bore | Stroke | Cylinders | CC | kW/PS | Aspiration | Valves |
| --- | --- | --- | --- | --- | --- | --- | --- | --- | --- |
| {{ engine.make }} {{ engine.code }} | {{ engine.tecdoc_id || "-" }} | {{ engine.fuel_type || "-" }} | {{ formatPreciseValue(engine.bore) || "-" }}mm | {{ formatPreciseValue(engine.stroke) || "-" }}mm | {{ engine.cylinder_count || "-" }} | {{ maxAndMin(engine.cc_tech_range) || "-" }} | {{ maxAndMin(engine.kw_range) || "-" }} / {{ maxAndMin(engine.hp_range) || "-" }} | {{ engine.aspiration_type || "-" }} | {{ engine.valve_count || "-" }} |

Your Vehicle

Your Engine

| Engine | MotNr | Fuel Type | Bore | Stroke | Cylinders | CC | kW/PS | Aspiration | Valves |
| --- | --- | --- | --- | --- | --- | --- | --- | --- | --- |
| {{ engine.make }} {{ engine.code }} | {{ engine.tecdoc_id || "-" }} | {{ engine.fuel_type || "-" }} | {{ formatPreciseValue(engine.bore) || "-" }}mm | {{ formatPreciseValue(engine.stroke) || "-" }}mm | {{ engine.cylinder_count || "-" }} | {{ maxAndMin(engine.cc_tech_range) || "-" }} | {{ maxAndMin(engine.kw_range) || "-" }} / {{ maxAndMin(engine.hp_range) || "-" }} | {{ engine.aspiration_type || "-" }} | {{ engine.valve_count || "-" }} |

Your Part